What Is Cryopreservation?
Cryopreservation is used to freeze & thaw eggs, sperm or embryos that can be used for IVF or IUI.
Freezing of biological material at extreme temperature.
Temperature used is as low as -196 C / -321 F.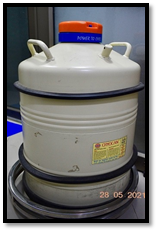 Different Techniques of Cryopreservation:
Egg Freezing
Carrier oriented women's
Reduce chromosomal abnormalities
cancer patient undergoing chemotherapy
    Procedure:
Ovarian stimulation
Egg retrieval
Freezing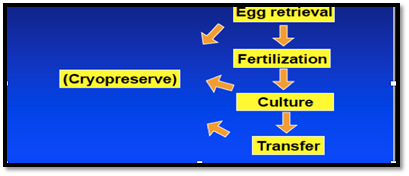 Sperm cryopreservation
Storing sperm for future use
Risk of exposure to chemicals, radiation, smoking, alcohol, drugs, stress, obesity etc.
Procedure:
Collected sterile container
Analysis for volume, color, PH, viscosity, sperm motility, sperm count, sperm morphology.
Sperm cryopreservation by two methods:
Slow freezing
Rapid freezing
Embryo cryopreservation
Preserving fertility for future use
Another chance to get pregnant if future IVF cycle fails.
No need to repeat entire IVF procedure again
Patient who are not ready for childbearing they can freeze embryo.
Career oriented women's can freeze embryo.
For embryo donation cycle
Procedure
Ovarian stimulation
Egg retrieval
Fertilize egg & sperm by ICSI & Conventional IVF.
Fertilize egg can freeze on day 3 & 5 with excellent embryo grading.