WHAT IS INFERTILITY?
WHAT IS INFERTILITY?
Infertility means failure to conceive after one year of frequent unprotected intercourse during the fertile period.
FERTILE PERIOD:
Means Days of Menstrual Period During Which If You Have Sexual Relationship Chances of Conception Are High.
Usually If Female Has Regular Cycle 0f 28-30 Days then Fertile Period is Between 10th To 20th Day of The Menstrual Cycle.
One must remember that, majority of infertile couple can have a baby with the help of assisted reproductive technology.
So, positive attitude of patient gives better result.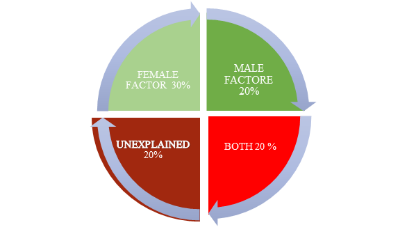 OVER ALL 15 % COUPLE REQUIRE MEDICAL ATTENTION TO CONCEIVE.
FEMALE PARTNER IS RESPONSIBLE IN 30%
MALE PARTNER IS RESPONSIBLE IN 30%
BOTH ARE RESPONSIBLE IN 20%
IN REMAINING 20% WE DO NOT FIND ANY CAUSE.
TYPES OF INFERTILITY
PRIMARY INFERTILTIY: A COUPLE THAT HAS NEVER CONCEIVED
SECONDARY INFERTILTY: INFERTILITY THAT OCCURS AFTER PREVIOUS
PREGNANCY REGARDLESS OF OUTCOME.
CAUSES OF INFERTILITY
THE CAUSES OF INFERTILITY CAN BE GROUPED UNDER FOUR MAIN FACTORS:
FEMALE FACTORS: 30%
MALE FACTORS: 30%
BOTH MALE AND FEMALE FACTORS: 20%
UNEXPLAINED FACTORS; 20 %
ALL OVER THE WORLD, THERE IS INCREASING TREND FOR MALE AND FEMALE INFERTILTIY.
THE MOST COMMON LIFESTYLE FACTORS CAUSING INFERTILITY ARE AS FOLLOWS:-
STRESS
FOOD HABBITS LIKE CONSUMPTION OF JUNK FOODS, FROZEN FOOD,
LATE NIGHT SLEEP, POOR PHYSICAL ACTIVITIES.
LATE AGE MARRAIGES
PRESERVATIVES IN FOOD
POLLUTION
MOBILE PHONE RADIATION
HABBIT OF PUTTING LAPTOP ON LAP
INCREASE IN DAIBETIC AND OBESE POPULATION
FLORA FERTILITY CENTER IS ONE OF THE BEST INFERTILITY SPECIALISTS IN AHMEDABAD, HERE YOU ATTAIN THE COMPLETE INFERTILITY SOLUTION BY OUR SPECIALIST
MALE INFERTILITY
50 % MALE HAVE INFERTILTIY PROBLEM.
OUT OF THAT 30% ARE SOLELY RESPONSIBLE FOR INFERTILTY
20% BOTH PARTNERS HAVE PROBLEMS.
ANATOMY AND FUNCTIONS OF REPRODUCTIVEORGANS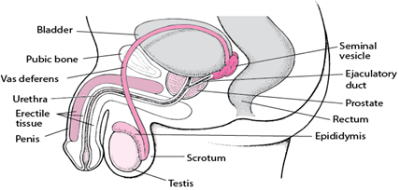 TESTIES: SPERMS PRODUCTION
EPIDYDEMIS: STORAGE AND MATURATION OF SPERMS.
VAS DEFFERENCE: TRANSPORTATION OF SPERMS
SEMINAL VESICAL: SUPPLEMENTATION OF ENERGY FLUID
PENIS: EXPULSION OF SEMEN CONTAING SPERMS
CAUSES OF MALE INFERTILITY:
APART FROM LIFESTYLE FACTORS
MOST COMMON CAUSES FOR MALE IINFERTILTITY:
VARICOCELE: MEANS DILATED VEINS OF SCROTUM
MUMPS INFECTION IN CHILD HOOD
DIABETES AND OBESITY
H/O TRAUMA, INFECTION, TORSION AND TUMOURS OF TESTIES AND SURGERY OF SCROTAL AREA
CHRONIC MEDICAL ILLNESSES: DM, HYPERTENSIVE, HYPOTHYRODISM, PSYCHIATRIC DISORDERS,
ON MEDICATIONS: CIMETIDINE, SPIRENOLACTON, CHEMOTHERAY
SMOKING, ALCOHOL AND TOBACCO CONSUMPTION
DRUG ADDICTION
H/O RADIATIONS
OCCUPATIONAL: WORKING IN HOT CONDITION LIKE NEAR FURNACE
LESS COMMON CAUSES ARE
HYPOTHALEMIC PITUITORY DISORDERS LIKE:

PITUATORY FOSSA TUMOURS
KALLMAN SYNDROME
GENETIC DISORDERS LIKE:

KLINEFELTER SYNDROME
Y CHROMOSOME MICRO DELETION
HOW TO EVALUATE THE MALE INFERTILITY:
FIRST IMPORTANT PART IS THE PROPER HISTORY TAKING AND PHYSICAL EXAMINATION.
SEMEN ANALYSIS: SIMPLE, NONIVASIVE AND MOST IMPORTANT

SEMEN WILL BE COLLECTED BETWEEN 3-5 DAYS OF ABSTENENCE.
IF SEMEN IS NORMAL USUALLY THERE IS NO NEED FOR FURTHER INVESTIGATION OF MALE PARTNER.
TERMINOLOGY USED IN SEMEN ANALYSIS
| | |
| --- | --- |
| AZOOSPERMIA | ABSENCE OF SPERM IN SEMEN. |
| OLIGOZOOSPERMIA | DECREASED COUNT OF SPERMS IN SEMEN |
| ASTHENOZOOSPERMIA | DECREASED MOTILTY OF SPERMS IN SEMEN. |
| TERATOZOOSPERMIA | HIGH NUMBER OF MORPHOLOGICALLY ABNORMAL SPERMS. |
| ASPERMIA | ABSENCE OF SEMEN. |
USG & DOPPLER OF SCROTUM (MOST COMMON TEST) TO RULE OUT

VARICOCELE: GRADE III AND IV REQUIRES MINOR SURGERY
TESTICULAR DISORDER

HORMONAL ANALYSIS: IN SEVERE OLIGOASTHENOSPERMIA
TESTICULAR BIOPSY: IN AZOOSPERMIA
GENETIC TESTS (CHROMOSOMAL ANALYSIS)
Y CHROMOSOME DELETION
NORMAL
MILD / MODERATE
(OLIGOZOOSPERMIA
ATHENOZOOSPERMIA
TERATOZOOSPERMIA)
SEVERE OLIGOZOOSPERMIA
ASTHENOZOOSPERMIA
TERATOZOOSPERMIA
Azoospermia
COUNT
>15 MILLION/ML
5-15MILLION/ML
1-5 MILLION/ML
Absent
MOTILITY
>50% RP:>30%
<25%
<15%
Absent
MORPHOLOGY
>4% NORMAL
<4%
< 2%
Absent
FOLLOWING CATOGARIES OF SEMEN ANALYSIS.ALL OTHER TESTS HELP IN DECIDING THE MODE OF TREATMENT.

There are lots of variations in semen analysis between two sample taken few days apart.
So, if first sample is abnormal then semen analysis should be repeated after 15 days.
HOW TO TREAT MALE INFERTILITY?
Mode of infertility treatment is only decided after investigations of both male and female partners.
Most common treatments are as follows depending on cause and abnormality of semen analysis.
TREATMENT OF OBVIOUS CAUSE:

SURGICAL TREATMENT OF GRADE III AND IV VARICOCELE
CONTROL OF CHRONIC MEDICAL CONDITIONS
CONTROL OF CHRONIC MEDICAL CONDITIONS E.G. DM, HYPERTENSION
AVOIDING MEDICATIONS THAT AFFECT SPERMATOGENESIS
STOPPING DRUGS, TOBACCO, LIMITING ALCOHOL CONSUMPTION
NUTRIONAL SUPPLEMENTS WITH LIFE STYLE CHANGES
VITAMIN SUPLEMENTATION
ANTIOXYDANTS: COQ/ LYCOPIN/ARGININE
AYURVEDIC MEDICATIONS CAN BE TRIED
MEDICATIONS
CLOMIPHEN CITRATE / LETROZOLE:FOR OLIGOSPERMIA
PENTOXYPHYLINE:FOR ASTHENOSPERMIA
INJECTABLE HORMONS:FOR SEVERE OLIGOASTHENOSPERMIA AND TRAILS IN NON-OBSTRUCTIVE AZOOSPERMIA
ART (ASSISTED REPRODUCTIVE TECHNOLOGY)
SIMPLE PROCEDURES

OVULATION INDUCTION WITH INTERCOURSE AROUND
OVULATION
OVULATION INDUCTION WITH IUI
IVF:

CONVENTIONAL IVF
ICSI
TESA / PESA
IMSI

SPERM DONATION
RESEARCH LEVEL TREATMENT:

PRP: PLASMA RICH PLATLETS INJECTION
STEM CELL THERAPY
FEMALE INFERTILITY
PICTURE OF FEMALE REPRODUCTIVE ORGANS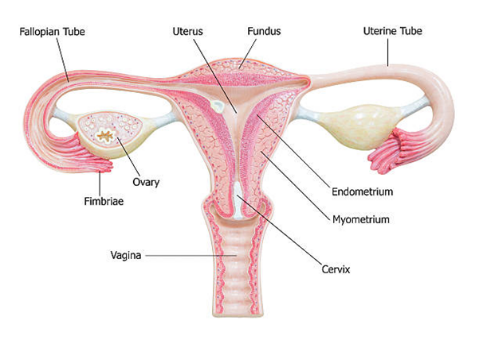 FUNCTIONS OF FEMALE ORGANS
OVARY: PRODUCTION OF OVUM
FALLOPIAN TUBES:

PICK UP OF OVUM
TRANSPORT OF OVUM AND FERTILE EGG
PROVIDING PROPER ENVIRONMENT FOR FERTILISATION

UTERUS:

IMPLANTATION
SUPPORT EMBRYO GROWTH.
FEMALE FACTORS CHART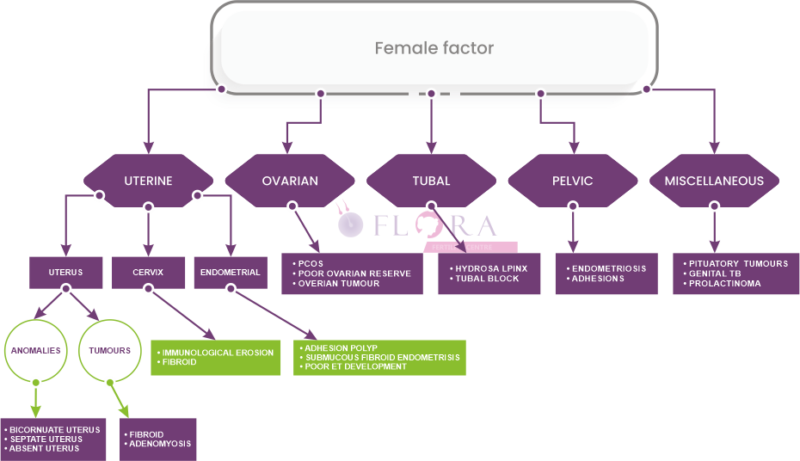 EVALUATION OF FEMALE FACTORS
PROPER HISTORY AND EXAMINATION
GENERAL BLOOD INVESTIGATIONS TO RULE OUT MEDICAL DISEASES
BASELINE SONOGRAPHY TO RULE OUT

UTERINE FACTORS
OVARIAN RESERVE
ENDOMETRIAL PROBLEM
HORMONAL TESTS IF NECESSARY

TSH
PROLACTIN
AMH
FSH
LH
TESTOSTERON
DHEAS
TUBAL PATENCY TEST

HYSTEROSALPINGOGRAPHY
LAPAROHYSTEROSCOPY: DIAGNOSTIC AND THERAPEUTIC
GENETIC TEST: IF NECESSARY

KARYOTYPE
EXON SEQUENCING
TREATMENT:
CONTROL OF MEDICAL DISORDERS
NUTRITIONAL SUPPLEMENTS
CORRECTION OF FEMALE FACTORS RESPONSIBLE FOR INFERTILTIY LIKE:
MYOMECTOMY: REQUIRED BIG OR DISTORTING ENDOMETRIUM.
METROPLASTY
ADHESOLYSIS
OVARIAN TUMOUR REMOVAL
SUGERY FOR ENDOMETRIOSIS: IN GRADE III AND IV
SEPTUM RESECTION:
TUBAL CANNULATION
POLYPECTOMY
MOST OF ABOVE TREATMENTS ARE DONE BY THERAPEUTIC LAPAROHYSTEROSCOPY
ET DEVELOPMENT TREATMENT
TREATMENT OF PROLACTINEMIA, GENITAL TB
ART (ASSISTED REPRODUCTIVE TECHNOLOGY)

SIMPLE PROCEDURES

OVULATION INDUCTION WITH INTERCOURSE AROUND OVULATION
OVULATION INDUCTION WITH IUI
PRP INJECTION

IVF:
OVUM DONATION
EMBRO DONATION
STEM CELL THERAPY
SUROGACY